Haifa Chemicals – literally – touches the lives of every one of us. It exports potassium nitrate for use in the production of smartphone touch screens.
China is one of the company's most important export target markets. Therefore, when a senior delegation from China arrived for a visit to the company's plants in Israel, the management made sure to use the highest quality interpreting service, despite the fact some of the managers spoke English fluently.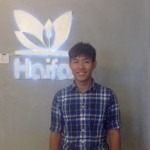 For this project, Lichi Translations' team chose a native Chinese interpreter with an education in chemical engineering and total proficiency in the terminology. Although the interpreter had expertise in the field, we asked the client to provide the specific material to be used at the event so that the interpreter could come prepared. Presentations, a glossary, a summary of the lecture, and the day's schedule were all important in helping an interpreter prepare for a project.
"Lichi's interpreter arrived with a glossary to which he referred while he was interpreting," Natan Feldman, the company's VP for marketing and sales, told us, "He was professional and intelligent and our guests felt that too. Bringing a new interpreter can be something of a gamble: Each language has its nuances and there are elements of negotiation involved; both sides are dependent on him."
"As is customary, the Chinese also brought an interpreter. Most of the time, each interpreter translated for his party and sometimes the managers interrupted in English since the Chinese CEO speaks English, but that didn't happen too often. The interpreter arrived for a few hours of training before the meeting; because of the important nature of the meetings, thorough preparation was crucial, so the investment in training was worthwhile."
We at Lichi Translations take pride in immediate, quality interpretation solutions as was the case for Haifa Chemicals. We do that by selecting the right interpreter , from a large pool of international team, for each project.
Our highly skilled interpreters can be found all over the world, whether your team is traveling to overseas exhibitions and conferences, or conducting a training course for customers.
Make sure to contact us from anywhere at any time for your translation and interpretation needs.